Whole School Curriculum
INTENT - IMPLEMENTATION - IMPACT
"The curriculum is a framework for setting out the aims of a programme of education, including the knowledge and the understanding to be gained at each stage (intent); for translating that framework over time into a structure and narrative, within an institutional context (implementation) and for evaluating what knowledge and understanding pupils have gained against expectations (impact)."
(Ofsted, Curriculum: intent, implementation and impact. Development work for the new inspection framework, 2017)
Rationale
The curriculum can be defined as 'the totality of the lived experiences a student receives as they move through the school'.
As a part of our Curriculum 20:20 initiative, we analysed our school's position in relation to this statement and OFSTED's curriculum indicators and refined our Curriculum Intent statement. Changes that had a cross-curricular impact were discussed with LMT and Governors in relation to the whole school curriculum.  There were four major changes:
Improve outcomes in Science and we therefore changed Triple Science to an option allowing for an extra five hours to be allocated to the teaching of Triple Science
We believe that Music and the Creative Arts enrich the lives of our students whilst at school and in their future adult life. All aspects of school life benefit from the positive impact the Creative Arts have on learning and teaching and students should have the opportunity to study these subjects for as long as possible. In 2020, the Governors favoured breadth over stipulation resulting in a Language now not being compulsory at GCSE
Introduce an ASDAN qualification to provide students with an additional qualification where they can succeed
Offer a more varied and full foundation pathway in the Sixth Form with the introduction of a Level 3 Cambridge Technical Certificate in IT and a Level 3 BTEC in Applied Psychology for those students that do not follow the traditional A level pathway
This policy aims to outline how the curriculum is organised at Guildford County School to ensure that all students gain the knowledge, skills and understanding required to be successful against both local and national expectations.
The policy encompasses:
Intent – the rationale, purpose and design of the curriculum as a whole;
Implementation – how the curriculum is organised and delivered in our specific context;
Impact – how improvements in pupil knowledge, skills and understanding are measured.
Fundamentally this policy seeks to explain how County has aligned its curriculum to meet the expectations of national policy objectives while also provide guidance for how subject leaders and classroom teachers should align their curriculum to meet whole-school expectations.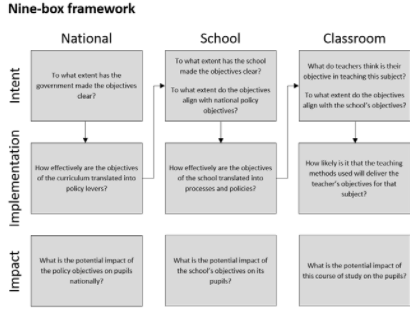 INTENT
We aim to provide a rich and varied curriculum that enables equality of opportunity to learn. Students are inspired to become the best versions of themselves, contributing positively to the world around them. The school curriculum seeks to provide outstanding personal development by supporting, promoting and instilling the values of GCS – Give, Create and Succeed throughout Year 7 to 13.
Give – Promote active community involvement…
Develops personal and moral values, respect for shared British values and for other cultures, religions and ways of life
Supports pastoral care that nurtures the child's physical and mental health and well-being and promotes a culture of care and concern
Involves working with the community to promote local, national and global awareness
Expands students' understanding of the world in which we live
Create – Secure development and achievement…
Develops lively, imaginative and enquiring minds and cultivates the best habits of independent thought and learning in the pursuit of excellence
Appreciates achievements and high aspirations that allow all children to discover their strengths
Builds sound numeracy and literacy skills
Explores Music to promote creative thinking across the subjects
Succeed – Prepare students for life beyond Guildford County…
Challenges, motivates and inspires and leads to lifelong interest in learning
Prepares students for further education whether academic or vocational and for the world of work
Assists students in their journey to become rounded young adults, enabling them to take their place in society as informed, confident and responsible citizens
Embraces new technology and equips students for a world of rapid and continuous change
Implementation – School Level
The Curriculum in the Lower School ensures full coverage of National Curriculum subjects and entitlement areas. It offers a rich and varied curriculum designed to give continuity and progression within the school and between phases of education, increasing students' choice during their school career. There is a strong focus on breadth of curriculum, with students studying a full range curricular range in addition to the core subjects. As a result, students are able to experience all subjects in order to develop their individual areas of interest and to make informed choices when deciding upon GCSE options subjects in Y9.
The SEND Department at Guildford County School aims to identify and overcome potential barriers to learning and to meet the needs of all SEND students within and beyond the school setting. Guildford County School SEND provision takes into account the full scope of student support, first and foremost this is the delivery of high quality, whole class teaching, guided and group work and individual interventions where absolutely necessary. However, we are keen to ensure that students with SEND do not have a narrow curriculum due to their learning needs. We have a number of pupils who do not have English as their first language. As such, our EAL students have the opportunity to attend EAL Club with a member of our TA team. Here, the focus is on widening their vocabulary and recycling language presented in their other lessons. With the changes made to the GCSE Curriculum the need for more complex vocabulary and an even greater emphasis on analysis of language becomes a key area of focus.
All students receive a broad and balanced curriculum in the Upper School by offering a wide range of GCSE subjects. The Upper School focuses on depth of learning, with students guided to develop their knowledge of key concepts and to understand the underlying links between different subjects and ideas. There is a clear emphasis on the in-depth development of the key skills and knowledge required for exams, whilst still ensuring subjects are engaging and enjoyable for students.
All students study Philosophy, Religion and Ethics (PRE) in the Lower and Upper School with all students taking a GCSE in Religion and Education at the end of Year 11. We felt the move the PRE encourages students to develop and justify their views on a variety of different ethical and philosophical issues. The lessons focus on students arguing as well as understanding and discussing the opinions of others without learning towards promoting any particular faith or worldview.
For SEND students who cannot access the full curriculum, an ASDAN qualification addresses gaps in students' knowledge and skills and reinforces literacy and numeracy skills.
We aspire to improve the quality of education provided for PP students at County. Within it, we accept a need to ensure all PP students have access to the breadth of core and co-curricular opportunities provided by the school and ensure they make excellent progress, compared to all students nationally, attaining high enough to have all post-16 options open to them.
Once a week, during tutorial time, all students receive formal PSHE education, as well as ongoing SMSC education across all subjects where appropriate. Science lessons, PE lessons, ICT lessons ensure students learn how to keep themselves and each other safe, including - but not limited to - Relationships and Sex (RSE) Education, Health Education and Online Safety. A range of assemblies, intended for different audiences, will also be used to deliver SMSC and PSHE education across both Lower and Upper School. The learning environment in which our students engage in should be supportive, safe and welcoming to gender and cultural diversity.
In the Sixth Form, most students follow an A-Level Pathway, studying three subjects and possibly four through to the end of Year 13. There is a Foundation Pathway designed for those students who do not have the minimum grade to commence A-Levels.
The Extended Project Qualification (EPQ) is available for some of our students who wish to undertake it.
Implementation – Classroom-level
Teachers constantly strive to achieve outstanding progress for every student by planning and delivering lessons that are always of the highest standard in their subject area. Our approach in the classroom is to recognise, nurture and foster the individual talent and confidence alongside collaboration, respect and empathy. Challenge lies at the heart of all that we do and it is not seen as an extra but an intrinsic core and thread.
Teaching should build cumulatively deeper understanding through a well-planned sequence of learning. This should ultimately build the capacity for skilful performance against each Assessment Objective area in each phase of learning to prepare students for the rigours of the GCSE exams in their subject. Concepts such as retrieval practice and regular assessment should be applied so as to ensure students have retained key knowledge, skills and understanding at each phase and Assessment for Learning techniques should be used to identify the needs of students and plan learning. We aim to challenge and extend thinking skills, problem solving, via creative approaches – thus equipping our students for the vital skills required for today's society.
Teachers should identify and exploit opportunities to develop student literacy and use of mathematics wherever possible, also working collaboratively with Teaching Assistants where available to improve rates of progress.
Home Learning is essential to raising educational standards and fostering high academic achievement. At County we set meaningful home learning tasks designed to challenge, consolidate and further the learning process outside of lesson time.
Impact
The curriculum should make a significantly positive contribution to the Personal Development of all students.
In the Lower School, attainment and progress will be measured against Key Stage 2 starting points. Acquisition of knowledge, skills and understanding in each subject will be measured using formative and summative teacher assessment. In the Upper School, attainment and progress in each subject will be measured by GCSE outcomes against FFT KS4 benchmarks.
The overall effectiveness of the implementation of the school curriculum will be measured using the school performance measures outlined in the DfE Statement of Intent.
The quality of curriculum leadership and management, as well as the quality of education provided by the curriculum will be measured via our Quality Assurance work which informs school self-evaluation.
Lower School, Upper School and Sixth Form
All students follow the following core program which operates on fifty 60 minute periods over a two week timetable. The amount of time provided for teaching the curriculum is reviewed by the Leadership Team annually.