Uniform
Why we have a uniform
Students at County wear their uniform correctly, smartly and with pride, knowing that in this small act they demonstrate humility to their peers, recognising that they are all an equal part of the school, and that others' health, happiness, and success is as important as their own.
What our uniform represents
Our uniform is formal and traditional, reflecting the value we place on providing a calm, stable and ordered environment in which children learn best.
The green in our school tie represents our place in the Surrey Hills, an environment of which we are proud.
Celebration and sanction around our uniform
Students tell us that they feel frustrated when their peers do not live up to our exacting standards around uniform and, for this reason, all adults in the school will remind students when these expectations are not met.
We make a point of celebrating students when they wear their uniform correctly, smartly and with pride. Where a student tries to accentuate their individual difference in their wearing of it, we will ask them to make corrections. In the rare instances where students do not, sanctions may be issued, ranging from confiscations of non-uniform wear to detentions.
Like mobile phones, incorrect items of uniform will be confiscated, and parents will be asked to collect them at a mutually convenient time. We accept no responsibility for the loss or damage of any items of value brought onto the school site.
Lost Property
To help us return lost items, please mark all of your child's uniform with their name.
Changes to our uniform
In 2022, we announced planned changes to our uniform. These changes came about after feedback from students, families and colleagues requesting a uniform that reduced gender difference and was cheaper. The most notable change as a result of this consultation is the phasing out of the green blouse as we move to a single uniform for all students.
From September 2022 – The new uniform must be worn by all our new Year 7 students. As students in other years replace their uniform, we recommend that they do so with the new uniform.
Current Students (Year 8-11 at September 2022) - We understand that families invest significant amounts of money in school uniform and will want to get good use out of it. With the exception of the new tie, which will be provided to all students in September 2022, we are therefore comfortable that existing students continue to wear their current uniform for another year. We expect all students will all be wearing our new uniform by September 2023.
If you have concerns about the cost of any new uniform, please contact your child's tutor.
All items of uniform, except the school badge, may be purchased from the following suppliers:
Stevensons, 210 London Road, Burpham, Guildford, GU4 7JS.
Uniform
Our new uniform from September 2022 (items with a * are only available through Stevensons)
NOTE: All uniform should be of an appropriate size and fit.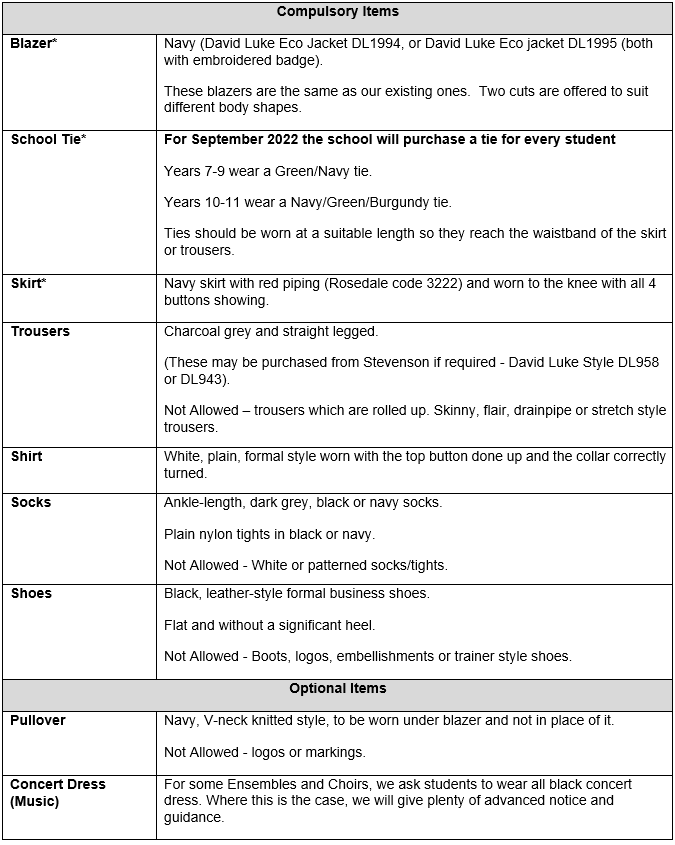 PE Uniform
PE Uniform (items with a * are only available through Stevensons)
NOTE: Watches and earrings must be removed for PE lessons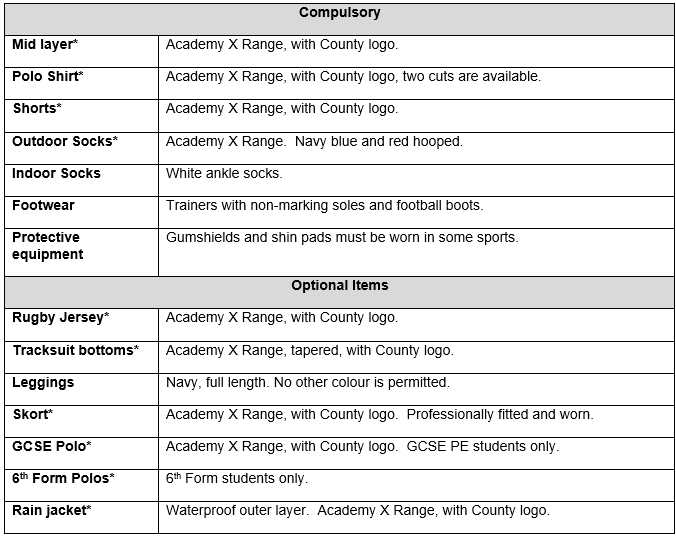 Other Uniform Requirements