Uniform
We are proud of our uniform, and expect all our students up to the end of Year 11 to wear the correct uniform each day. We ask parents to give us their support by sending their children to school suitably dressed.
Students should aim to be clean, neat and tidy in appearance at all times. Any student arriving to school in the wrong uniform may be sent home or placed in the Student Learning Centre (SLC).
Jewellery – Students are permitted to wear a watch and one pair of small ear studs (sleepers). No other body piercings are to be worn. All jewellery must be removed for PE.
Hair – Hair should be of a reasonable length. No extremes of hair style. No patterns, shavings, lines and un natural colours. Students who don't abide by this will be placed in the SLC.
Make up and Nail Vanish – Make up should be discreet, giving a natural look. Nail vanish should not be worn, nor acrylic nails.
Details of school uniform for boys and girls (to the end of Year 11) are given below.
We ask all parents to show us positive support by maintaining their child in the proper school uniform.
All items of uniform, except the school badge, may be purchased from the following suppliers:
Stevensons, 210 London Road, Burpham, Guildford, GU4 7JS.
BOYS' UNIFORM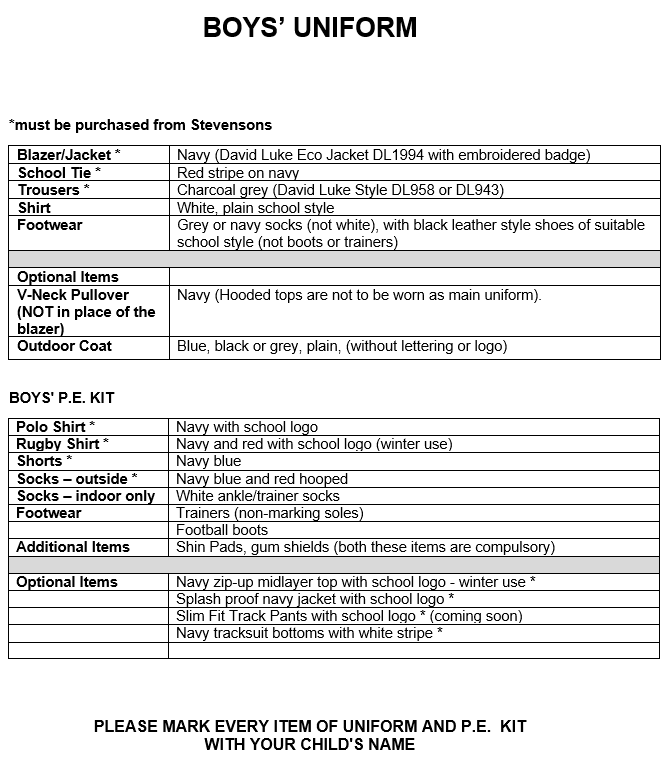 GIRLS' UNIFORM