Catering
SCHOOL LUNCHES
Our catering staff provide a daily cafeteria service of snacks and drinks. There is always at least one substantial hot meal on the menu. There are meals deals as well as individually priced items, and students pay each day at the service till for the items they have bought. Most students spend about £4.00 each day. A daily limit can be applied.
PACKED LUNCH
If you prefer, your child can bring a packed lunch from home. Children who do this are expected to take their midday meal in the Dining Room or under the covered picnic areas. No food is to be eaten outside the Dining Room / picnic areas. They may of course, if they wish, buy drinks and other items from the school cafeteria.
Your child will be expected to remain in school at lunchtime unless you intend to provide lunch at home. We do not agree to students going into town for their lunch, or to other students' homes. If, for a special purpose, you need your child to come out of school at lunchtime, we shall be happy to agree to this, but we shall need a note from you in advance.
Cashless Catering - parent information
All students will be registered for cashless catering when they join us. (Please ensure that you have returned the cashless catering consent form giving consent, or not, for biometric registration.
How is money entered into the system?
Online via Parentmail
Online Payments via ParentMail
Parentmail information will be issued to all new students.
How to check a catering balance in the system at any one time?
Parents can check their child's lunch balance in the parentmail app. This can be found within "Accounts" under Dinner Top Up.
If we pay for a set number of school meals, can it be spent in one day?
No, a daily spend limit of £8.00 will be set for all pupils and no food above that limit can be bought. On request, an individual pupil limit of your choice could also be set, to include a school dinner and break time snacks. Most students spend about £4 per day.
What if a student does not hold a sufficient cash balance to pay for a school meal?
No 'overdraft' facilities will be allowed on the system. Students must have enough money in their accounts to purchase a meal.
What about a student entitled to a 'free school meal'?
The system works exactly the same for all pupils whether they pay themselves or have a free school meal. All pupils gain access to their accounts via the biometric scanners. The amount allocated for the free school meal will be entered into the system by the software daily and will only be accessible at lunchtime. Any under-spend or missed dinner will be identified by the system and will not be added to the next day's balance.
What data will be held on the system?
Certain data will be held on the system to enable accurate operation. This will include the student's name, tutor group, photo, account balance, meal entitlement and biometric data (if you have given consent). Other than the biometric data, this information is already held on the school's administrative systems. All the data will be handled under the guidelines of GDPR and only used by parties directly involved with the implementation of the system.
If you have any queries please do not hesitate to contact Mary-Jane Crump our Finance Manager via email (mcrump@guildfordcounty.co.uk).
Menu Examples
Examples of GCS weekly menu – 3-week rolling schedule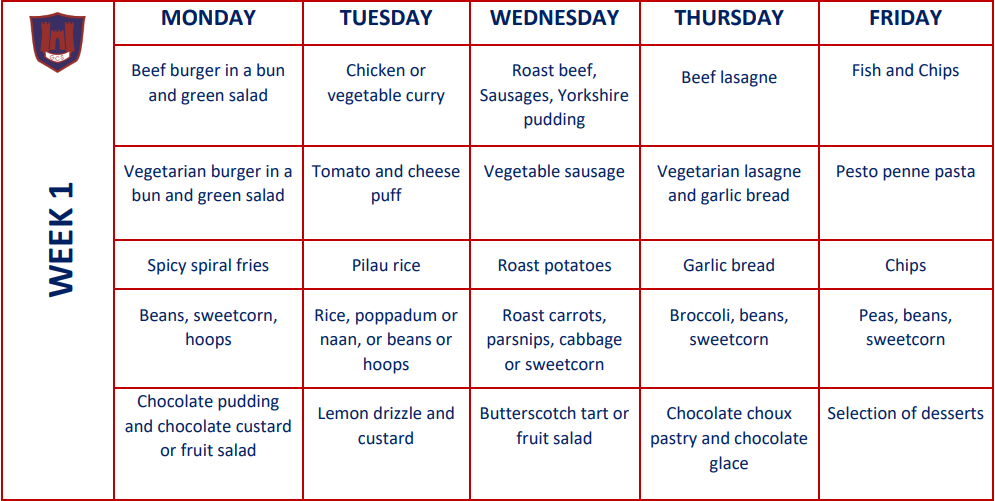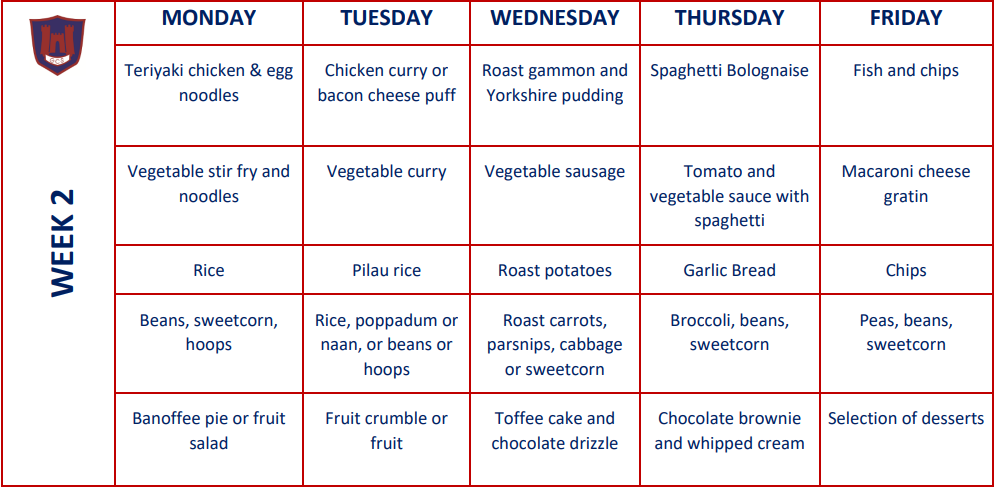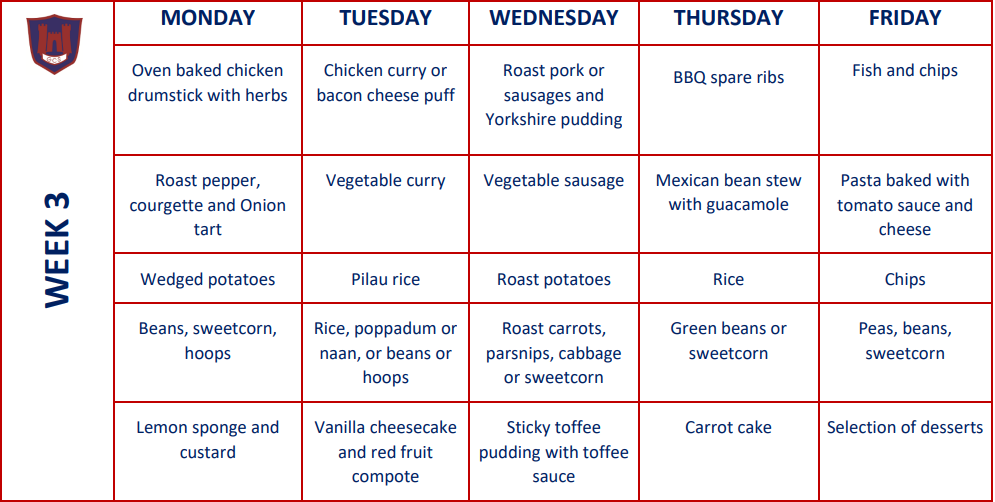 Meal Deal Options
Free School Meal (FSM) information
All our FSMs are served daily in our Dining Hall for the lunch service only. The meal deals allowed are described in the earlier section, and also on posters on the wall in the dining hall.
Our pod serves a variety of snacks which can be purchased if you wish but these will not be covered by the FSM allowance and will require you to top up your child's lunch account via Parentmail.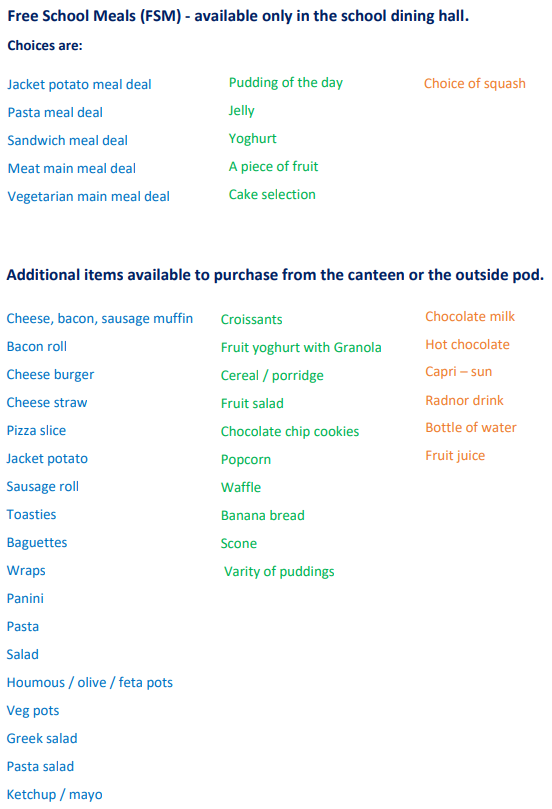 Food Options and Pricing
As at September 2021
(these may be subject to change)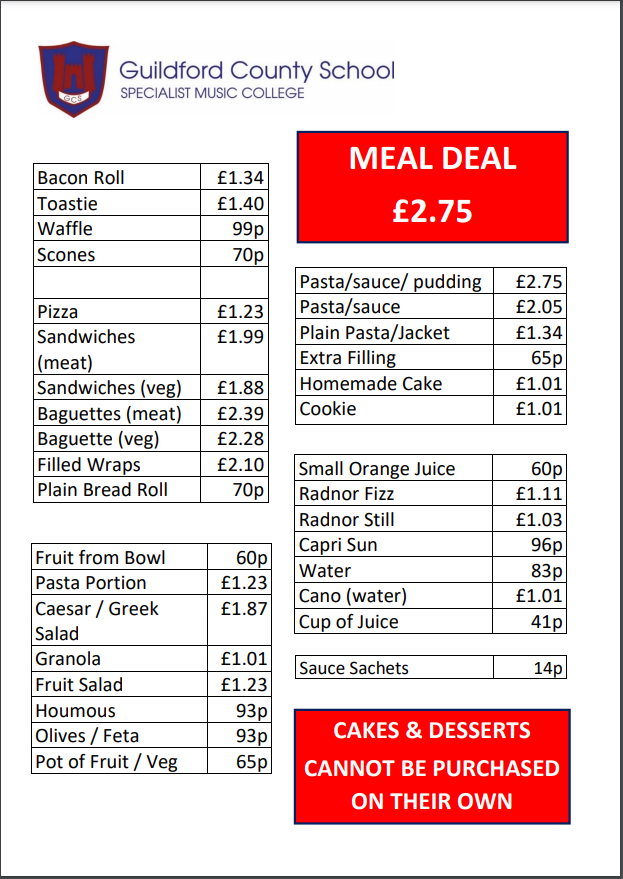 Meal Deal photos