Assessment
Assessment
Values
At Guildford County School we believe that assessment is a vital part of the learning process. Assessment is a diagnostic, formative and summative process. It provides a snapshot of a student's attainment and provides information to help the teacher plan the next stage of an individual's or group's progress and to develop the work of the student.
Grading System
All GCSE subjects have now moved to the new 9-1 grading system. 9 is the highest grade a student can achieve, and 1 the lowest. Information on how the new 9-1 grades compare to the previous A*-G scale can be seen in the table below.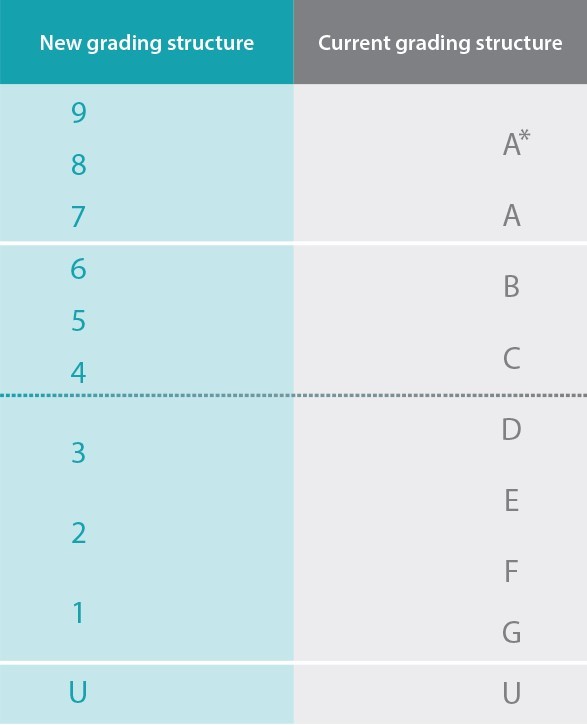 Target Setting
Our Target Setting philosophy at Guildford County is as follows:
We are an aspirational school and therefore our policy is that no student is set a GCSE projection of below a Grade 5 when they arrive in Year 7. We set our targets using FFT Aspire Top 5%.
In the Lower School students will receive their GCSE Projected Grade and an End of Year Target (milestone).
In the Upper School students will receive their Year 11 GCSE Target Grade
Targets for Pupil Premium (PP) students are set following a discussion with our PP Lead.
Targets and projected grades are reviewed each Summer Term after IR3.
If a student or parent/carer requests an increase in their projected/target grades our approach in principle would be to support this aspiration.
Formal and Mock Exams
Lower School
Students in the Lower School sit their Formal Exams in the Main Hall in either the Spring (Year 8) or Summer Term (Year 7 and 9).
Upper School
Year 10 sit their Formal Exams across a two-week period after the Easter Holidays.
Year 11 sit their Mock Exams across a two-week period in December. Students receive their results in a Mock Result Assembly in January
Reporting
Students receive three Interim Reports (IR) during the academic year. Each IR will include information on the students' commitment to learning as well as achievement and progress. A Student Review period will begin following the publication of each IR, allowing every student to reflect on their progress and set targets for future development. A copy of each IR will stuck in to the Student Planner, and also be published via EduLink One for parents/carers to view.
If you have any questions regarding assessment, target setting or reporting at Guildford County please contact your child's Form Tutor in the first instance.
Sample Year Ten Interim Report