Learning and Teaching
Learning and Teaching at County 2022-2023
We want all students to be genuine participants in a purposeful, engaging curriculum. We want them to master the knowledge and skills they need to be happy and successful in their lives and to make them experts in their subjects.
We strive to ensure the highest standards of learning for every student, in every lesson.
The County Learning Guarantee – The aspects of successful learning
The aspects of successful learning (see diagram below) are the aspects of pedagogy that we use at County to develop successful learning in the classroom. Based on the latest and best in educational research, these aspects of learning ensure that students are developing the knowledge and skills they need to be experts in their subjects. They focus on supporting students to access long term memory and 'make knowledge stick.' Together these aspects make up our County Learning Guarantee. The common thread through all of the County Learning Guarantee is the importance of literacy. We know the significance of being able to access written material, and how vital this is to students' progress. This is why reading, writing and speaking like subject specialists is so important to us.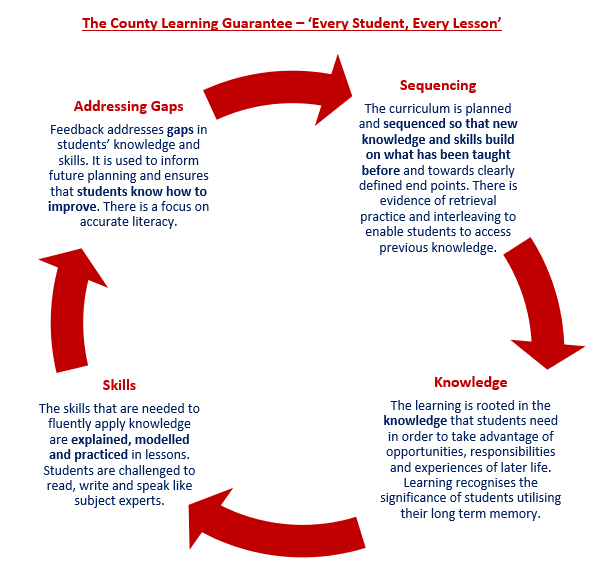 At County, we are not prescriptive about the order or weight given to these aspects of learning in an individual lesson. Each lesson should be responsive to the needs of those students, at that time. Instead, these are the fundamental principles that we base student learning upon; you should expect to see these in lessons. Students should feel comfortable discussing these learning principles.
What does the County Learning Guarantee LOOK like in lessons?
A planned and sequenced curriculum that builds on previous knowledge and skills.
Lessons that emphasise the knowledge and skills that students need to acquire.
WALTs (Learning Objectives) that clearly demonstrate the purpose of the lesson and are linked to knowledge and skills. Students should KNOW why they are learning 'this'.
Organised, well presented and cared for student work that reflect the respect students have for their learning.
Inclusion in all lessons of research-backed strategies for improving long term memory access – interleaving, retrieval practice, low stakes testing.
Disciplinary literacy – getting students to 'talk, write and read like Geographers (for example)
Written, teacher led feedback on student work half termly, with feedback being offered by the teacher at least fortnightly. This should be recorded by students.
Modelling of processes, and not outcomes.
Exemplary behaviour that allows all students to learn in a focused environment.
County Learner Standards – 'Every Student, Every Day'
These standards set out the high expectations we have for our students at County, every day. They are written by our Student Learning Team.

Student Voice
We want students to feel confident when talking about their learning. We also know it is important to find out what is working well for our students, and how we can improve their learning experience. When we visit lessons and speak to students, we use five, consistent questions. These questions were designed by our Student Learning Team.
Tell me about….. (what are you learning?)
Why do you think you are learning about this?
Tell me something you are good at in this subject.
How do you know what you need to do to improve?
Can you give me / show me an example of when the teacher has given you feedback that has really helped you?