Funding to Support Learning
COVID-19 Accelerated Learning
Accelerated Curriculum Plan
Following lock-down, our priority has been for all students to return to normal educational routines as quickly as possible. Our Accelerated Curriculum Plan gives you an overview of some of the issues identified as barriers to learning that children have experienced and how we plan to address these issues over the academic year paid for by Government 'Catch-Up' funding. We have specifically focused on teaching and whole school strategies, targeted strategies and wider strategies so as to include all children in our planning and delivery. A more detailed breakdown of how we are spending the funding is available.
Please contact abosco-reid@guildfordcounty.co.uk if you would like further information about our Accelerated Curriculum Plan.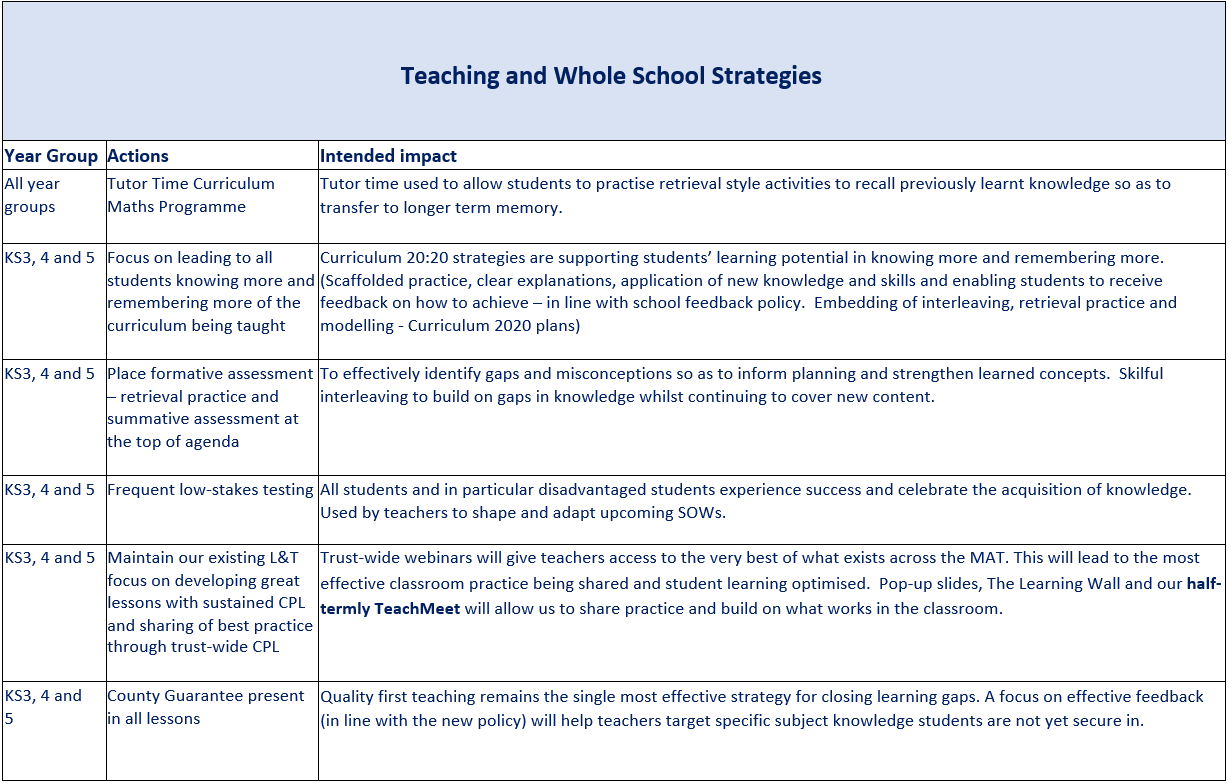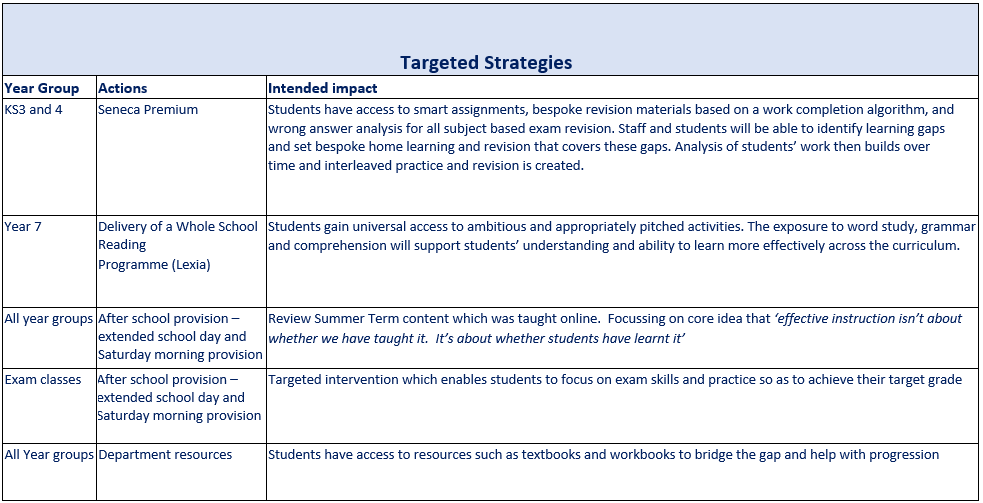 Literacy and Numeracy Support
Literacy and Numeracy support in Lower School
Students who arrive at County in Yr 7 with a number of standardised scores for 84 or below will be will be placed onto a catch-up literacy programme. These sessions will take place during Tutor Times so students do not have a narrower curriculum. Students will be regularly assessed and may return to tutor later in Year 7 if they make sufficient progress. Some students will occasionally come out of lessons for additional support but this is kept to a minimum and decided upon in a case by case basis.
Literacy and Numeracy support in Upper School
For those students who are on an alternative options pathway as a result of their learning needs, an ASDAN qualification is offered. Each case is assessed on a child-by-child basis. For other children, literacy and numeracy support will be delivered through a programme offered by Marshall and through the English and Maths Departments.
Literacy is at the heart of all teaching and learning at GCS. Our students are highly articulate and they are encouraged to express their views, both spoken and written, in a wide variety of curriculum contexts. Every lesson/sequence of lessons provides the students with a multitude of opportunities for demonstrating their literacy skills in a range of ways. These ways fall under the following five broad categories:
Listening Skills – all of the teaching is centred around the use of discussion; thus it is vital that students and teachers become active and careful listeners. The difference between hearing and listening is key to this; students are taught from the start of their time at GCS that they improve their learning by responding to and developing upon the ideas of others. Teachers encourage the use of 'hands down', especially in the early stages of discussions, to ensure that students have to listen to their peers and their contributions should be in the form of a response to what has been said before. The teacher takes the role of chairing the discussion, intervening only to refocus and address misconceptions.
Oracy – students are provided with numerous opportunities to speak and it is an expectation that all students should respond. The role of the teacher is to plan the discussion in such a way that students feel comfortable making contributions. Although the majority of students at GCS are confident and articulate, it is important that the less vocal students are provided with a safe and supportive environment in order to overcome their reticence. The relationships between students and teachers are fostered to allow this to happen.
Reading Skills – In an increasingly media obsessed age, we must all recognise the wide diversity of potential texts that students may be exposed to; thus teachers seek to embrace and utilise technology rather than ban it from our classrooms. It is also relevant in a school where such high regard is given to the creative element of learning, that we should recognise that reading is not confined to the written word and that students are given opportunities to read other texts such as media, music and art.
Writing Skills – writing is part of a process, only to be attempted once the previous three stages have been completed. Students discuss and evaluate real life examples of work before attempting their own. Ideas and concepts are explored verbally before they are committed to paper (or computer screen). Editing and improving is a further stage of this process and students are given opportunities to peer and self assess in order to improve their own work. Again, the atmosphere which allows them to feel comfortable with this process can only come from the teacher.
Subject Specific Language – accurate and coherent literacy skills must employ appropriate terminology and language. Teachers use subject specific vocabulary to all students and encourage them to use it in their discussions and written work. Additionally, appropriate register and tone for specific tasks are determined and utilised.
By seeing literacy as a series of linked activities, rather than a single discrete entity, teachers aim to encourage all our students to become active and critical self learners; to be curious and enquiring; to develop the skills of analysis, synthesis and review which prepares them for the world beyond education and to see real and practical links between subject areas.
Pupil Premium
Summary Pupil Premium Statement 2019/20
In 2019/20, the school received £120 800 in PP funding, and is budged to spend an additional £46 000 of its general funds to continue the initiatives of 2018/19, which saw the addition of extended breakfast club provision, support for our 20% plan, further staff CPD focus, and to develop and improve our provision of 1:1 teaching sessions in English and Maths. We look to implement an extended school for some students which will also need supporting from this budget, and the launch of a staff PP Champions Team, whilst incurring no extra costs in itself, will generate further spend as new initiatives are identified.
On 21st March 2020 Lockdown 1 was implemented as a direct result of covid 19. This continued until the end of the end of the academic year. Pupils returned in September 2020. This resulted in a four-month period of students not being in school, a further two months of holiday period, and a rapid and immediate response to supporting our vulnerable Pupil Premium students. The commentary below accounts for both an eight-month face to face support programme and the lockdown period.
The list below is extensive, though not exhaustive, providing a summary of much of our PP work: Please note many of these items rely on Teacher/Coordinator time, and as such dedicated roles are quantifiable, whereas others are less financially definable.
The school broke the lockdown period into three phases: rapid identification of need, creating individual support roles and packages, delivering the support and a monitoring/follow up phase. Our main commodity in this period of time was our staffing. Staff were the key communication pipeline in maintaining contact with these families and providing a structure for them to work within. The initial identification phase threw up many and varied individual and bespoke challenges, each requiring a unique solution.
Enhancing reading, writing and mathematics skills for PP students
Small group teaching and designated SeN teacher.
During lockdown each member of the SeN department was allocated a group of students to identify the needs of and report back. Either physical resources were prepared or online lessons completed depending on the environment.
Expenditure in 2019/20: £79 580
Using extra-curricular provision to engage students and develop a depth of learning
Provision of Music Tuition and accessibility to all school trips.
Where practical, we continued online tuition of Music.
Expenditure in 2019/20: £16 187
Ensuring staff have a clear focus on the potential impact of disadvantage and the need to improve student outcomes:
4 matrix training, PP coordinator at SLT level, LAC coordinator, Land T CPD sessions, Dept driven initiatives.
We established a food drop network for all our PP families, which ran for the six months of lockdown weekly. Voluntary food donations were supplemented with purchase of food from suppliers and supermarkets. Run a voluntary basis, teaching and support staff ensured continuity of provision to every family.
Expenditure in 2019/20: £26 979
Engage PP students with school life, encouraging them to be happy, enthused and recognising their potential:
Ensuring access to all school events, TA time targeting PP, HSLW, Youth Worker, Summer School, Surrey CC support services, subsided tickets, PP mentors, school uniform, free breakfasts
Expenditure in 2019/20: £30 000
Addressing specific issues that impact the performance of individual students:
Purchase of revision aids, free equipment, free Easter Y11 revision courses.
We provided transport to and from our hub FSM allocated school for several families, and contributed to the extra expense incurred by our hub school in providing this service.
We engaged in the Governments IT laptop scheme for vulnerable children, and supplemented this with our own hardware.
Expenditure in 2019/20: £14 350
Pupil Premium Strategy 2020-23
Pupil Premium, DfE strategy document
Summer School 2021