COVID-19 Updates
As you will know, much of our work here at County has had to be refined and changed to take account of the exceptional circumstances in which we all find ourselves as a result of COVID-19. You have been kept well informed of all of these changes and there is much information around our website to support you if you get a little bit lost. The purpose of this section of our website is to try and tie it all together and provide you with a 'one-stop-shop' for information and guidance about all things relating to COVID-19.
Needless to say, we are always at the end of an email or a phone call should you wish to engage with us directly.
With best wishes,
Steve Smith
Head of School
Absence from school advice
Accelerated Learning
Accelerated Curriculum Plan
Following lock-down, our priority has been for all students to return to normal educational routines as quickly as possible. Our Accelerated Curriculum Plan gives you an overview of some of the issues identified as barriers to learning that children have experienced and how we plan to address these issues over the academic year paid for by Government 'Catch-Up' funding.
Advice and support
Please use this section of the website as well as your normal contact with the school through your child's form tutor, so as to gain any information, guidance or support that you might need. Whether all students are on site or not, we will continue to be an open, caring and community minded school. Please speak to us whenever you need to.
Blended and Remote Learning
Remote Provision – January update.
The school day and timetable
We will be following a model of Real Time Learning, which means all students will be expected to follow their normal school timetable during the day. For ease, all students will now be following the timings below (slightly altered for Year 7, 8 and 9).
| | |
| --- | --- |
| Period 1 | 8.45am |
| Period 2 | 9.45am |
| Break | 10.45am |
| Period 3 | 11.10am |
| Period 4 | 12.10pm |
| Lunch | 1.10pm |
| Tutor time | 2.00pm |
| Period 5 | 2.30pm |

Tutor time
Year 7-11 tutors will be using MS Teams to hold 3 virtual tutor times a week. Tutors will communicate directly with students to let them know on which days these will be taking place.

What will lessons look like?
Teachers will choose the method of delivery that best suits their subject and the topic of that lesson, meaning each lesson may be slightly different. Every lesson will start with a MS Teams call which will be used to -
Take the register
Introduce the topic being covered in the lesson
Give key information and instructions
Give students the opportunity to ask any questions
The rest of the lesson may carry on online or independently.

There may be some instances where staff are unable to deliver the live part of the lesson, due to illness or personal circumstances. Work will be provided on MS Teams for the students to complete.

If there is usually a TA supporting in the class, they will join live lessons where possible, but please be aware that many of them are working with our students in school, so may not be available at all times.

Handing in work and feedback
Whilst learning remotely it is vital that students listen to the deadlines set and ensure they meet them. Work should be submitted via MS Teams.

Feedback will be provided in a timely manner to support student understanding and progress. This may be written feedback on MS Teams or verbal feedback during a MS Teams lesson.

Attendance and punctuality
Students should attend all live lessons and arrive promptly. Teachers will be taking lesson registers to monitor engagement in remote learning. Persistent non-attendance will be followed up by the pastoral team.

If your child is unwell and is unable to attend virtual lessons on a particular day, you should email info@guildfordcounty.co.uk or use the EduLink App as you normally would. Please do not call as the phones in school will not be manned.

If access to a device is difficult during the school day, please do let you child's tutor know so we can arrange for appropriate work to be provided.
Expectations of live lessons
During a MS Teams lesson, students must make sure they mute their microphones, unless they are invited to speak by the teacher. Videos must be left off, unless the teacher states otherwise. Students must use the hands up feature when in a Teams lesson and wait for their turn to talk. All communication, whether verbal or typed, must be appropriate. The chat is monitored by the teacher and should only be used to ask relevant questions.

How can I help?
Create a quiet space in your home, where your child can work during the remote sessions. They will need space for their exercise books, paper, writing equipment and their electronic device.
Create a copy of your child's timetable in a central location so that all are aware of what sessions should be taking place during the day.
Help your child establish a daily schedule and routine that fits with the school timings.
Encourage your child to turn off any other devices and turn off notifications on the device they are using.
Encourage your child to take breaks from the screen during 'break-times' and get some fresh air when there is time.
Remind your child that they need to have the same high level of behaviour and conduct as though they are at school, which includes when communicating with staff and their peers through technology.
Speak to your child about their work; ask them what they have learnt and look at what they have completed.

Seeking support or help
There may be times where students are stuck on a task. Staff are on hand during the timetabled lessons to answer questions or support students via the chat on MS Teams. At other times, students can contact teachers and tutors via their school email or using EduLink One.

An important aspect of learning, is how to help yourself when you are struggling. Students can implement a range of strategies should they become stuck on their work, including watching instructional videos and PowerPoints again, looking at the textbook explanation or finding a YouTube explanation of the topic.

Good learning routines
To ensure that remote learning remains productive and achievable, there are two simple learning routines that I would encourage your child to follow during this time:
Complete and submit work from the day by 6pm to allow time in the evening to unwind
Teachers will indicate how long a task should take. Students should only spend that long on it and let the teacher know (via email) that they were unable to finish

Technical issues
Technical issues may occur during remote learning, which could cause temporary connection issues or disruption to the lessons.
Teachers will contact the class via MS Teams if the issue is at their end.
If the issue is at your end, please ask your child to close the application and re-join the lesson. If there are more serious issues, you may need to restart your computer or device.

Communication with school
If you need to get in contact with school during this period, please contact your child's tutor via email or EduLink One.
As the situation around COVID-19 develops, our community has had to adapt, often with immediate effect, to a different way of learning and teaching. Your support and patience has been hugely appreciated, whilst teachers throw their old ways out of the window and embrace our ever-changing methods of online learning.
Our two models of curriculum delivery are -
Remote learning – All students in the class are learning from home
Blended learning – Some students in the class are learning from home, others are learning in school
What can the students expect from an online lesson (blended or remote)?
All lessons will begin with a Teams call. The call (or link) will be sent by the teacher within the first ten minutes of the lesson. Please do be patient with staff, if they are moving classrooms they will need to set up, sanitise, log in and make the call. This will take a few minutes. This call has three main purposes –

To take the register
To give key instructions and information
To answer any questions

The teacher will then proceed with the lesson, which may continue online or require the students to complete independent work. Please do bear in mind that not all lessons (when face-to-face) require an hour of input from the teacher. We are trying to mimic the classroom experience, meaning students may need to spend some time working independently.
The Teams chat can be used throughout the lesson to communicate with the teacher. If it is a blended lesson, a student will be asked to monitor the Teams chat and alert the teacher if any messages come through. The teacher will respond promptly.
Students will be asked to upload necessary work to Teams as per the teacher's instructions.
Students will receive feedback once a fortnight as per the school policy. Please do not expect every piece of work to receive feedback. This may be in the form of –

Whole class feedback
Verbal (recorded) feedback
Use of feedback codes
Teacher written feedback
Please be aware that some of our teachers are currently unwell, but doing their upmost to ensure work is available for students to complete independently. Teachers will not be replying on Teams if they are too unwell to do so. If your son/daughter finds that a Teams call doesn't arrive, please encourage them to complete the uploaded work independently. If there is no work and the teacher isn't responding on Teams, students should let their form tutor know.
Expectations of student behaviour during an online lesson (blended or remote).
Students to be sitting in a quiet space with the door open.
Students to open all necessary resources (uploaded to Teams) and wait for the teacher to begin the call. Students should not start the call before the teacher arrives.
Students to mute microphones and turn off cameras as soon as they enter the call.
Students to only unmute themselves when invited to, using appropriate language at all times.
Students to only post in the chat when they are invited to, or when they have a question for the teacher. We have experienced some silliness when using the chat function. Please do reinforce with your son/daughter that this isn't a 'chat room' and shouldn't be treated as such.
If a student repeatedly fails to follow these (virtual) classroom rules, they will be removed from the call. If this is the case, the member of staff will be in touch to discuss further.
Our online provision is evolving by the day and this is, in part, due to the helpful feedback we've received from parents, carers and students. Please do encourage students to contact their class teacher if they have questions about the work set. Any more general questions or feedback about our learning provision, please feel free to email me – lbush@guildfordcounty.co.uk.
Lucy Bush
Assistant Headteacher – Learning and teaching
Guildford County School - Contingency plans in place for remote education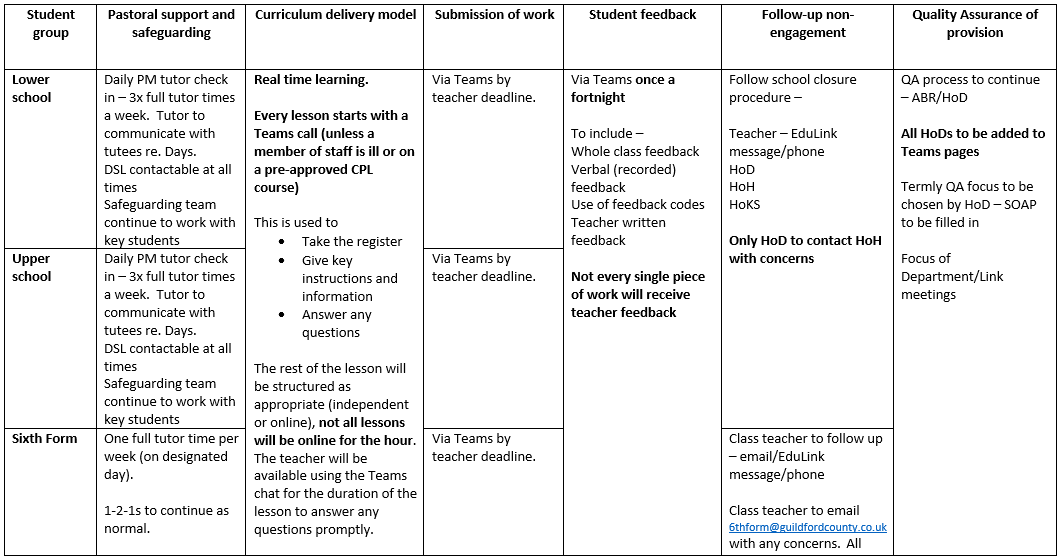 Cleaning
We are constantly working towards ensuring the safety of both our students and staff.
We do as a matter of course insist the students take a large amount of responsibility for their actions and comply with our routines. We take it incredibly seriously should any student compromise our school safety.
Whilst all the regimes form part of a larger programme, I have broken it down into areas for ease.
Common areas: All students are in year group bubbles and assigned to their own part of the school for the day. Whenever they leave a classroom it has been compulsory for staff and students to wear face masks within all common areas. At present wearing masks in class is voluntary, but an increasing a number of staff are adopting a visor, and children wearing face coverings – Mr Smith is looking to step this up further. Every common area has an entry and exit point and a fixed hand sanitiser station.
We have been overwhelmed with the donations of masks and we are able now to provide a mask should any student come into our school without one. We would still ask, though, that parents provide these, so that we do not have to charge for masks, when our donations have run out.
Our premises Team do a daily wipe through during the school day of toilet taps, toilet touch points, stair banisters and common area door handles and push plates.
Entry to school: We have restricted only essential visitors to our school. Non-essential visitors are not allowed in the school building and must wait outside. Anyone entering must use our NHS track and trace regime. Masks are compulsory for all visitors, and hand sanitiser pumps are situated at entry points. Our signage is very clear of our expectations.
Classrooms: Hand pump sanitisers are situated in every classroom for exclusive use of students. Fixed sanitiser stations are at strategic entry points for "year group bubbles". Each classroom has a Teacher exclusion zone in which the teacher must stand and teach from. It is, where possible, a minimum of 2 meters from the closest student. To enable this we have rearranged rooms and taken furniture out. Every Teacher has their own disinfectant pump spray and paper towel, for ensuring that the room is left cleaned down after every lesson. After every lesson, the tables and chairs are wiped clean with our disinfectant pump spray. This travels with a teacher to their next lesson.
Canteen: We have a "no mask no food" policy. At the entry to the eating and servery area each student must sanitise before they enter. This is compulsory and enforced by our lunchtime supervisors. Students sit in identified areas, separated into Guildford and County areas to further distance. Different year groups are not in the catering facility at the same time. During changeover of year groups, tables and backs of chairs are wiped down by our Premises team before any other students enter the facility. The catering area is then subject to a full clean by our cleaning Team between 4 and 8pm. We have employed extra staff to cover both the increased service times and the increased cleaning regime.
Our School cleaning team: At the beginning of the COVID-19 event, we revised the cleaning regime with our team, to focus on surfaces, locks, push plates and handles and flat surfaces. Our team wear full PPE whilst cleaning and lock a room once done to ensure they are ready for students and teachers the next morning. Each morning our premises Team meet to evaluate any incidents that have occurred and any redirection or focus needed from the cleaners.
Event of a notification in school: In the event of a notification in school, we track back through all the areas that could possibly have been at risk of COVID-19 infection and they are immediately locked down. These areas are then fumigated and given an immediate full deep clean by our specialist premises team and put in a resting state. Typically, 48 hours lockdown. They have a set routine that is instigated for all the identified areas. The room is further cleaned by our cleaning team again that night, having been communicated to them during our briefing to them.
Ventilation and air flow: We very early on identified the benefits of natural ventilation and purging rooms. We daily pursue this and encourage staff to open windows and doors at all times.
Staff focus feedback: This group meets regularly and feeds back improvements that we could make to any of our processes. These are actioned immediately. We issue daily updates to all our staff regarding new and improved ways of working to mirror the ever-changing position we face.
Our school track and trace process identifies patterns and trends. To date I have been confident to report back to Mr. Smith's Leadership Team that cases of COVID-19, and the wider impact, are not being propagated though poor standards of cleanliness.
Our Operations Team's first and foremost priority is the safety of our students and staff.
Co-Curricular provision
We are not currently running as many co-curricular clubs as we would normally. Please contact club leaders for information about what is and is not running and when. Any activities that are running, are doing so within year group bubbles only so as to account for the safety of all involved.
Communication
Our most common method of communication with families will be through ParentMail. Please keep an eye on this system so that you are always as up-to-date as possible. We also encourage you to follow us on Instagram, Twitter and YouTube.
Contingency planning
There should be limited academic and social implications for your children if there is a closure of all or part of the school to onsite learning. Please click the link below to see the 'Leading Learning During Coronavirus' section of this website for further details. Should you have an issue around the pastoral care of your child, then please reach out to their form tutor in the normal way.
Letters to parents
Please click the link below to read back over all communications with parents, many of which relate specifically to our management of COVID-19.
LFT Home Testing - Step by Step Guide to your LFT Test
LFT Home Testing - Reading, Recording and Registering Your Result
PPE
Unless you are exempt, all persons on our site will wear face coverings at all times inside the building, other than in class or whilst eating. Those who wish to wear a face covering in class are most welcome to do so.
Risk assessment
Our risk assessment processes are ongoing and the associated documentation updated frequently. As such, we do not publish the information here. We work alongside the Athena Schools Trust compliance team and our own Local Governing Body to ensure that everything is in place for the continued health and safety of all members of our community and at all times. If you wish to know more, please contact the school and we will be happy to answer any specific questions in as timely a fashion as we are able, bearing in mind that our H&S team are currently working under more time pressure that normal.
School Meals
We now operate a split lunch service to enable us to keep the year groups apart and to allow for the lunch facilities to be cleaned between service. Any families of free school meals children who are self-isolating should reach out to us through their child's form tutor if they are struggling to feed their families whilst away from school.
School trips
These have currently been suspended. This situation is continually under review.
Transport to and from school
We ask that parents and carers adhere to government guidance on the use of both public and private transport, including where this relates to the use of face coverings. We recommend that students walk to school wherever possible, such is the value of exercise to both our physical and mental health.
Uniform
Our expectations for the standard of school uniform remain incredibly high – our line on this being that uniform should be worn 'correctly, smartly and with pride'. The only exception to this being on days when a Year 7, 8, 9 or 10 child has a PE lesson. On these days, students will come into school wearing their PE kit, including dark tracksuit bottoms for all during this colder weather. We ask, though, that they pack their normal school uniform on these days so that if it rains or is very muddy during a PE lesson then they will still be able to wear dry and clean clothes for the rest of the day. We feel certain that this further reduction in the ability to mix within a year group bubble, in this case whilst getting changed, will be an effective way to reduce the spread of infection.
When to return to school